Our Story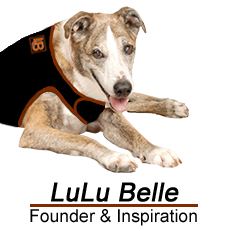 Our story is a love story. All the best stories are.
As Plato said "necessity is the mother of invention", with all due respect to Plato, we humbly submit that both love and necessity together are the mother of invention! When our beloved family dog, LuLu Belle was hurting, LuLu Belle's Wonder Wear was born.
As sweet LuLu Belle entered her golden years we began to notice that she had difficulty with mobility. When LuLu Belle's labored walking and difficulty climbing steps was diagnosed as arthritis in her hips, we started looking for options to help ease her discomfort. We tried pain medicine, holistic supplements, acupuncture, aqua therapy, and even laser therapy. She was the only family member we chose, and we wanted to ensure she could be happy and comfortable as long as possible.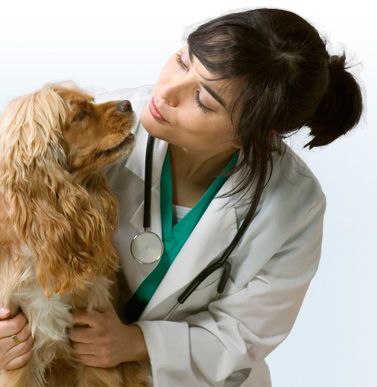 LuLu Belle didn't respond to all those conventional attempts to help her arthritis pain. All of those needles, pills and laser lights were expensive and didn't seem to help much. And then we had a thought… we saw similarities between cell structure and joints in people and in dogs, so maybe what helps us cope with chronic arthritis pain could also help our LuLu Belle?
With the help of our family veterinarian and a local seamstress, we developed several prototypes of a therapeutic garment we named LuLu Belle's Wonder Wear, and tweaked the pattern until we found the perfect design! What started as a cut-up copper infused t-shirt, re-assembled to have a zipper for a Ziploc bag of ice became a cutting edge, adjustable, copper threaded compression garment with a long pocket and malleable, Reusable Warming/Cooling Gel Pack. Oh, and it's machine washable! This is the ultimate therapeutic garment for aging dogs.
LuLu Belle's Wonder Wear is comprised of a copper-knit fabric that is durable enough to be worn all day and washed regularly. It helps relieve pain through comforting compression around a dog's shoulders, torso and hips where dogs often suffer most from stiffness or pain. The pocket along the top of the garment is designed to easily fit the included Reusable Warming/Cooling Gel Pack which provides instant pain relief by decreasing inflammation and increasing circulation. Finally, a way to provide an effective, easy, and non-invasive holistic treatment for dogs big and small… Introducing: LuLu Belle's Wonder Wear!
At the risk of sounding like an infomercial…But wait, there's more! Because LuLu Belle's Wonder Wear fabric has actual copper thread knit in, not just a copper dip treatment that washes out. The garment will provide therapeutic value for the lifetime of the garment.
So, what does copper do? The ionization of copper has been proven to help reduce skin allergies, irritations and rashes. Plus, your pet will smell better as copper is 99.9% anti-microbial, virtually eliminating stinky dog odors.
But even that's not all! The design of the garment is totally adjustable with strong Velcro closures at the neck and under the belly. This allows for the perfect fit for any breed of dog from a tiny teacup Chihuahua to a fluffy St. Bernard. This gives a slight compression that hugs the dog, and provides a feeling of comfort. Dogs that suffer from anxiety feel safer and less exposed in their Wonder Wear. Stress caused by separation, loud noises like the doorbell, or the weather could be eased, just by putting on the LuLu Belle's Wonder Wear therapeutic dog garment.
Dogs love unconditionally, the least we can do to return their love and affection is to provide them with a feeling of safety, security, and comfort as they age. We created Wonder Wear for our LuLu and it helped her live her best life for longer than we could have imagined. We hope that by creating this amazing garment, other dog owners will finally be able to help their fur-babies too.
Imagine your dog feeling ease from:
Arthritis

Allergies

Anxiety
Help man's best friend, live a dog's best life, with LuLu Belle's Wonder Wear!

Our Team