LuLu Belle's Dog Garment Provides Comfort from Anxiety, Allergies and Arthritis
** 
Veterinarian Recommended
 **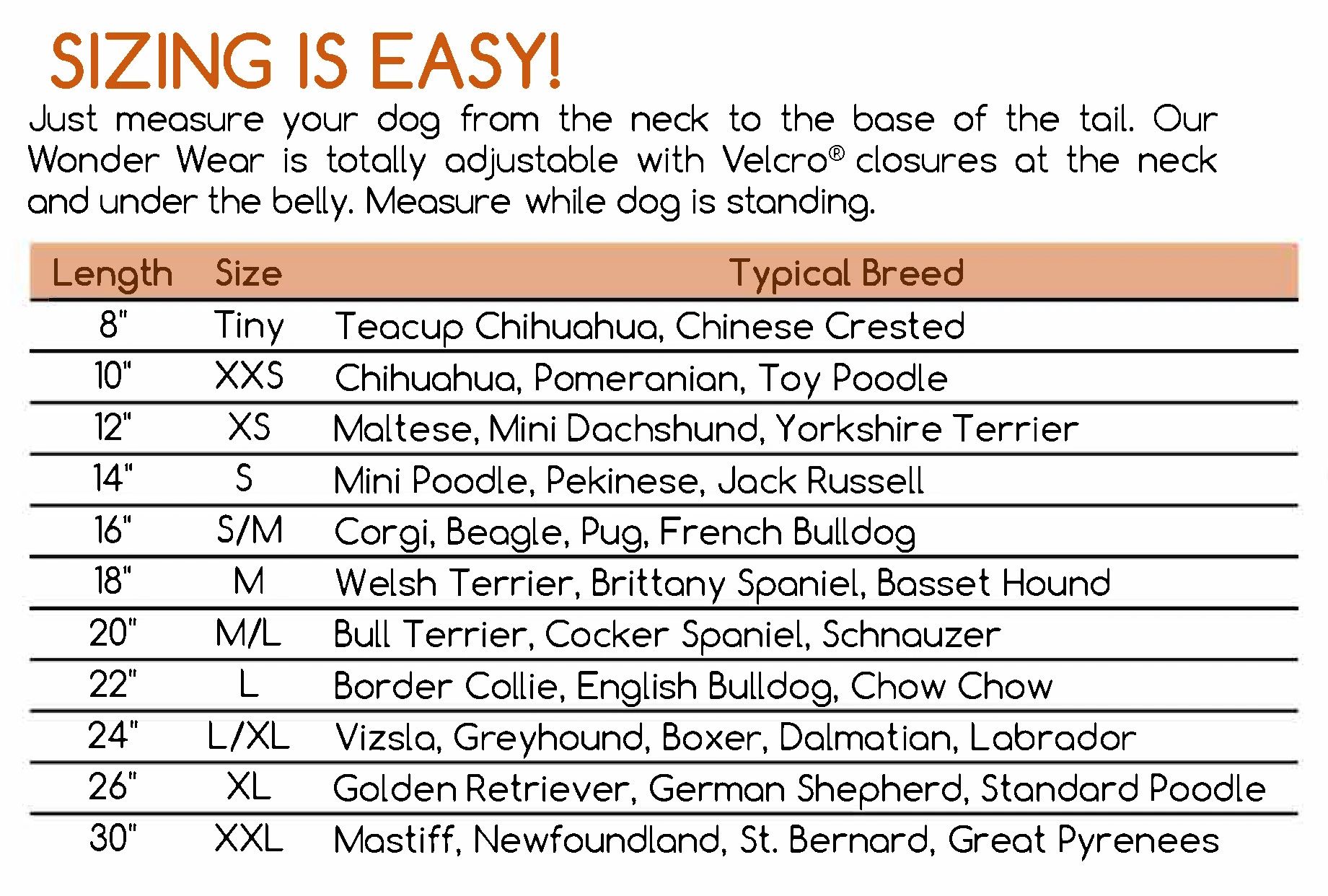 *If your dog is between sizes, please go up to the larger size
Give your amazing dog the gift of comfort with a therapeutic jacket designed to help ease arthritis, allergies and anxiety. LuLu Belle's Wonder Wear is completely adjustable with Velcro closures at the neck and under the belly, creating a custom fit whether your dog is 2lbs or 200lbs. Each LuLu Belle's Wonder Wear order includes a Reusable Warming/Cooling Gel Pack that is microwave and freezer safe to ensure maximum comfort and security for your dog. 

So, how does LuLu Belle's Wonder Wear work, and what makes it different from other dog garments on the market? Our Wonder wear is designed with knit-in copper thread creating a field of ionization that helps ease skin irritation and allergies common in dogs. Copper is 99.9% anti-microbial, significantly reducing pet odor!  Because it is knit in rather than just dipped, the copper in the garment does not wash out, and will continue to provide therapeutic benefits for the life of the garment. Did we mention it is machine washable? 
Copper is only part of the solution in LuLu Belles Wonder Wear's holistic approach. Compression has been shown to decrease anxiety caused by thunder storms, loud noises, and even separation from your dog's favorite person...YOU! In addition to this, we have built in a pocket for the included Warming/Cooling Gel pack which conforms comfortably to the shape of your dog to increase circulation and decrease inflammation as needed. Just as we discover new aches and pains as we age, our best furry friends also have similar issues and just by wearing LuLu Belle's Wonder Wear they can feel comfortable again in their golden years. For those that give us unconditional love, a snazzy jacket that makes them feel great again is the least we can do!
We created LuLu Belle's Wonder Wear for our beloved LuLu Belle, and hope that other senior dogs will find the same comfort she did in a garment that truly does it all!
(Reusable Warming/Cooling Gel Pack included with each garment purchase)